Contact: Lauren Dickinson, Communications Officer, John S. and James L. Knight Foundation, 305.908.2694, [email protected]
Nov. 20, 2019 — Five arts institutions will share nearly $750,000 in new support from the John S. and James L. Knight Foundation for experimental projects that explore new ways to engage audiences through immersive experiences.
From a virtual reality experience that connects audiences with women of the African diaspora, to the creation of new open-source software that transforms collections data into interactive experiences, the projects aim to leverage immersive technologies – such as virtual, augmented and mixed reality – to strengthen audience engagement.
"Across the board, arts institutions are hungry to improve their use of technology to connect with audiences. But limited know-how and resources are inhibiting experimentation and success," said Chris Barr, director for arts and technology at Knight Foundation. "Our hope is for these new initiatives to inspire more innovation in the field and provide models for other organizations seeking to engage people with the arts through tech."
The five projects, listed below, were selected through an open call for ideas launched earlier this year that received more than 500 submissions.
In addition to funding from Knight, the organizations will receive optional coaching from Microsoft's mixed reality team, access to Microsoft and partner technology, and the opportunity to be featured across Microsoft marketing channels. Representatives from the selected organizations gathered in Redmond, WA, to meet and learn from Microsoft teams focused on platforms and devices ranging from Microsoft HoloLens 2 to Azure Kinect to AltspaceVR.
"Art and science are intimately linked through creativity. Today we are pushing new frontiers in both disciplines through advances in artificial intelligence and mixed reality," said Lila Tretikov, corporate vice president of AI Perception and Mixed Reality at Microsoft. "The selected institutions receiving new support from Knight are exploring and paving the path towards a new era of creativity, one that will allow humanity to transcend boundaries across physical and digital, memory and imagination, time and space, science and art."
The selected organizations and their projects are:
American Museum of Natural History ($175,000)
To explore how immersive technology and data visualization can combine to give museum audiences more context for exhibited objects: The museum will develop workflows and open-source software to transform collections data into interactive experiences; experiment with how the software can support VR and other immersive technologies; and make recommendations to cultural institutions that would like to implement similar experiences for their audiences.
The Colored Girls Museum, with the Center for Digital Humanities at the University of Arizona ($175,000)
To establish a model for collaboratively producing VR/AR museum experiences to expand and engage audiences: The institutions will partner to create an augmented reality enhanced virtual museum experience that connects a dynamic group of artists, educators and technologists with everyday women of the African diaspora. The project will produce a series of real and virtual exhibits around the world, leveraging the power of immersive, interactive experiences to engage visitors with the life experiences of women and girls of the African diaspora.
Japanese American Museum of San Jose ($100,000)
To leverage augmented reality and art, enhancing the museum's connections with the surrounding community: The museum will do outreach and conduct workshops with local community members, incorporating their ideas and aspirations into an augmented reality experience that reveals the multi-ethnic history and culture of San Jose's Japantown district.
Museum of Art and Design at Miami Dade College (MOAD) ($120,000)
To develop the skills and capacity for a sustained exploration of the intersection of art, social justice and immersive technology: Through Forensic Architecture: True to Scale — its first exhibition to implement immersive technology — MOAD will create a study center; pilot ongoing curricula; and develop a tactical playbook for the continued critical and creative incorporation of immersive technology into museum programming, displays and outreach opportunities.
Museum of the Moving Image (MoMI) and Scatter ($175,000)
To explore how technological platforms of the future can teach and encourage social engagement and open dialogue in museum contexts: Scatter will produce a virtual reality documentary experience, created with their volumetric filmmaking technology, Depthkit. The experience will be presented as an exhibition and residency at MoMI. The project will allow local community members to contribute their stories and 3D likeness to the experience onsite at the Museum on an ongoing basis.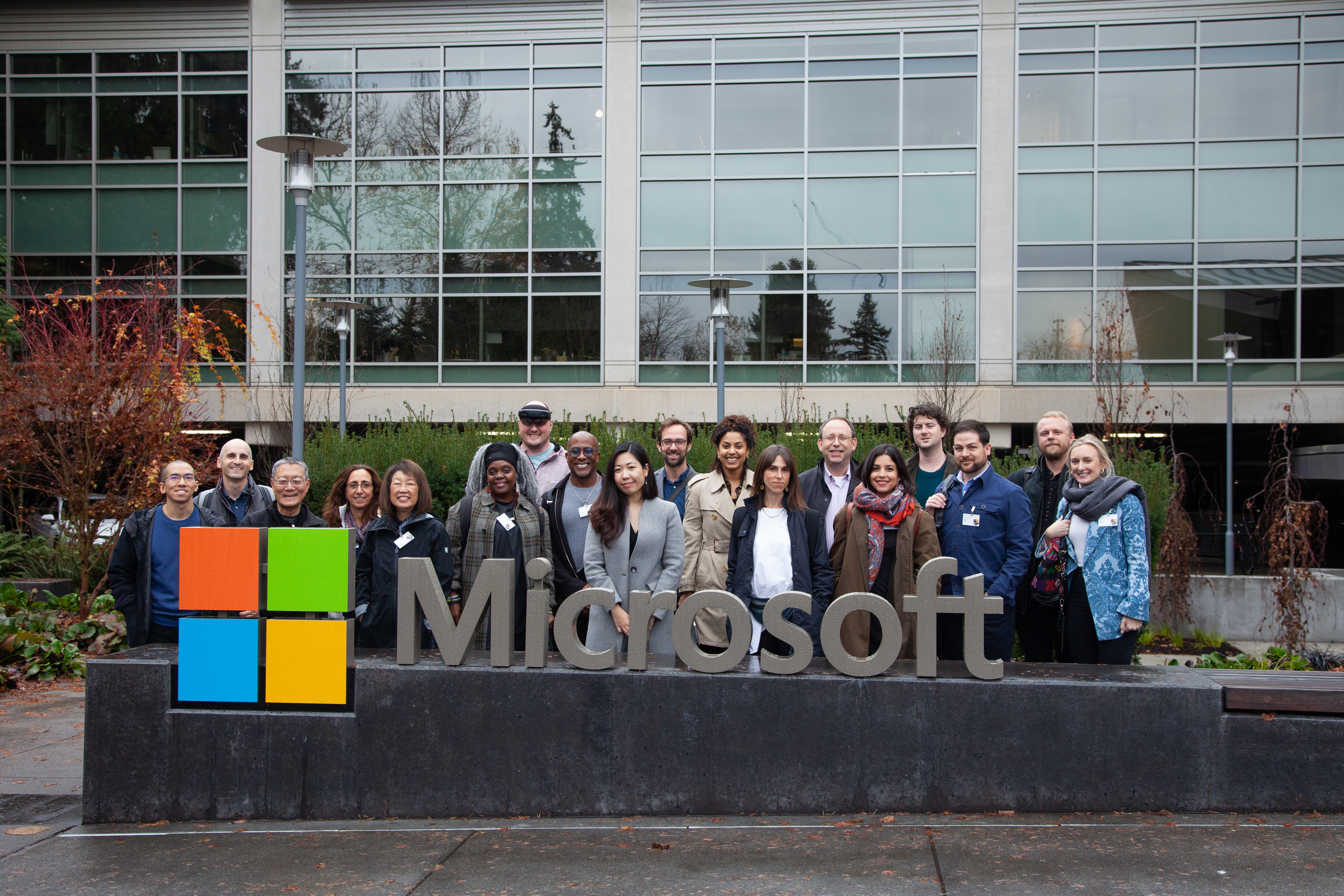 Funding for these organizations is part of Knight Foundation's arts and technology focus, which aims to help arts institutions better meet changing audience expectations and use digital tools to connect people to the arts. Last year, Knight made a $600,000 investment in twelve projects designed to harness the power of technology to engage people with the arts. Most recently, Knight launched the "On View" podcast, which examines how museums and cultural institutions are evolving to keep pace with a changing world.
About the John S. and James L. Knight Foundation
Knight Foundation is a national foundation with strong local roots. We invest in journalism, in the arts, and in the success of cities where brothers John S. and James L. Knight once published newspapers. Our goal is to foster informed and engaged communities, which we believe are essential for a healthy democracy. For more, visit kf.org.
Image: Vision of how a visitor will explore museum collections in AMNH's Hall of African Peoples. Credit: Eozin Che
YOU MAY ALSO BE INTERESTED IN…