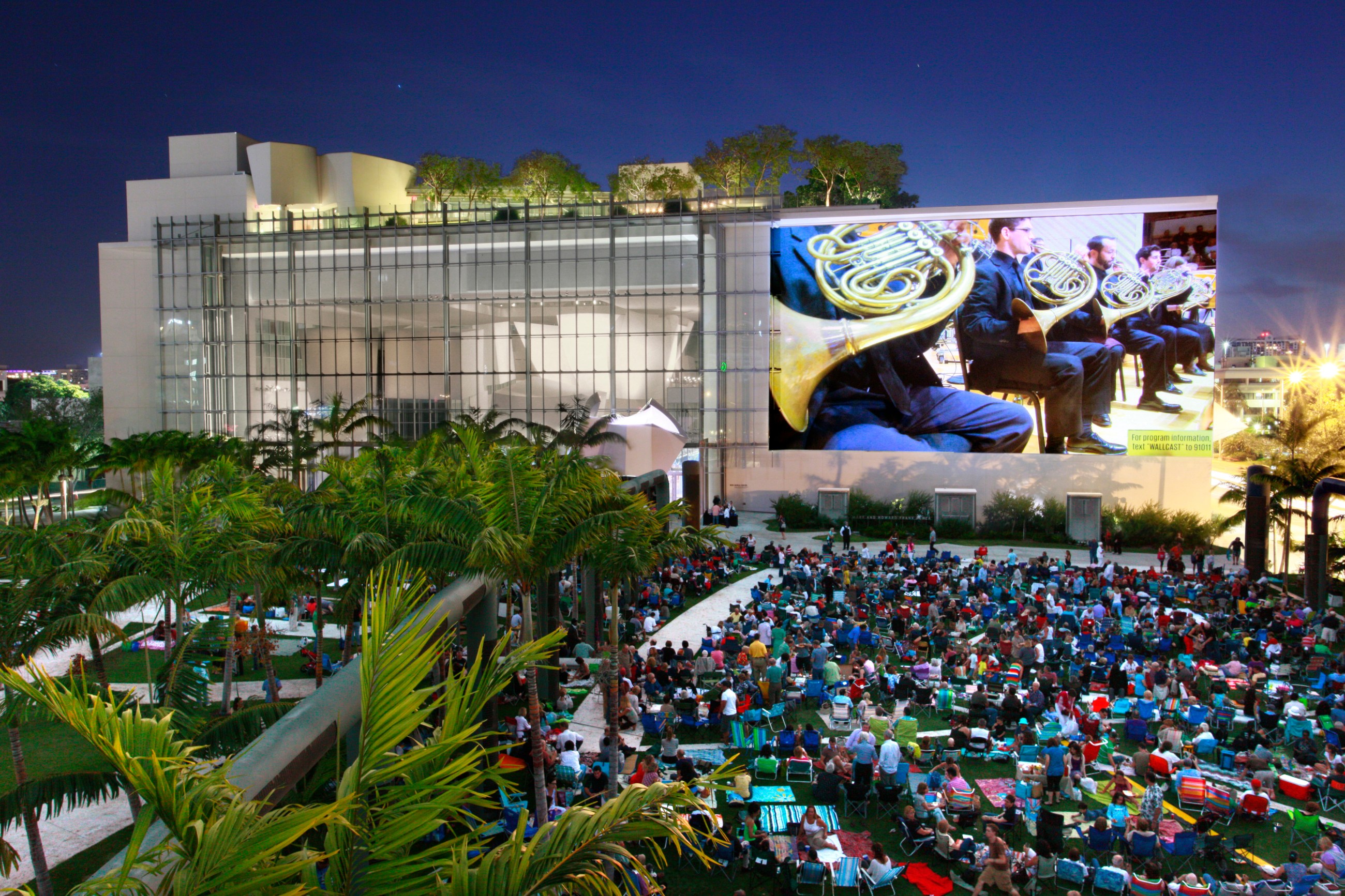 Arts
A city transformed: How the arts have shaped Miami
This year, Knight Foundation celebrates the 10th anniversary of the Knight Arts Challenge Miami, which funds the best ideas for bringing South Florida together through the arts. Below, writer Anne Tschida explores how Miami and its cultural scene has changed in that time.
Only a decade ago, this seemed like an impossible dream: an urban core defined by arts institutions, fostering both cultural awareness and community connections.
On the 10th anniversary of the Knight Arts Challenge, which has played a pivotal role in this renaissance, it's a good time to look back at how we got to this vibrant state, and how the arts have transformed this city.
But it was wobbly ground.
Miami was struggling with image issues, and being seen as a high-crime town, a sun and sin city, a place divided by its diverse but segmented population. It was not known for its art scene.
"Back in 1984, when Edward Villella was starting up the ballet, it was a very different world," said Lourdes Lopez, Miami City Ballet's current director and Miami native. "It was a real struggle back then." Most creative talent would leave Miami as soon as they could for more fertile territory. For Lopez, that meant forging her dance career in New York. It was the same in other disciplines, which made building an arts organization a hard task, and a tough sell.
By the time Art Basel arrived in 2002, that was starting to change. And 10 years ago, when the Knight Arts Challenge was launched to fund the best ideas for the arts in South Florida, the cultural scene exploded. Artists were no longer leaving, and people like Lopez were returning.
"We were having our own artistic brain drain," said Victoria Rogers, vice president for arts at Knight Foundation. "But today they are coming back – and staying" because they can finally make a living, find support and a like-minded artistic community, she says. We have reached "a critical mass" for a thriving, and solid, landscape.
Knight's own investments — $122 million to large-scale organizations and smaller efforts since 2005 – wasn't about creating but building on momentum, said Alberto Ibargüen, Knight Foundation's president.
"We were not inventing something new. We were facilitating something natural," Ibargüen said.
He couldn't have predicted how the arts community would develop, he said.
"We didn't imagine [the indie art filmhouse] O Cinema. We didn't imagine what would happen if we gave a $25,000 prize at the Miami Film Festival, which attracted a whole range of artists to come to Miami and present their films.
"I couldn't in a million years imagine what ICA will do with the money that we have given to them to bring cutting edge art. I didn't imagine how beautiful a setting and a set of programs PAMM was going to be able to present. The things that New World Symphony can do with the digital technology that was endowed by Knight Foundation are simply magical.
"To be able to facilitate the dreams and visions of artists, I think is an extraordinary privilege," Ibargüen said.
Knight's investment, coupled with support from Miami-Dade County, city leaders and other private funders, in addition to the vision and tenacity of cultural leaders, has paid off in many ways. Over the last decade, the annual economic impact of Miami Dade County's arts and cultural industry on the local economy has grown from $922 million to $1.43 billion, and has doubled the number of full-time arts jobs here, to 41,000. In addition, annual attendance at cultural events has grown by nearly a third from 12.7 to 16 million, according to the county's office of cultural affairs.
Part of creating the critical mass in the arts involved developing a central focal point. The Arsht opened in 2006, in a rather lonely stretch of neglected land. But that would change in a handful of years. The arts caused "a flower to bloom… and have taken on a crucial role in the community," said John Richard, the Arsht's CEO and president.
The performing center became a town square, bringing people together not just to see a concert, but to meet and mingle. Throughout this decade, Richard thinks Miami has found a unique rhythm, which is a combination of its more established institutions and traditions mixed with a local aesthetic that emanates from its people.
Richard points to one of the first Knight Challenge grants ever awarded, for the center's Free Gospel Sundays, which has turned into "a signature, significant tradition in our community." The event is so important, the Arsht did everything it could right after Hurricane Irma to make sure that Gospel Sunday happened, as a morale booster to the city, he said.
The Arsht was joined downtown by the PAMM building on the bay in 2013, its location and gorgeous architecture making it an instant crowd magnet. "It's the people's museum," said Director Franklin Sirmans, in a "district where everyone comes together." PAMM has worked to thread the great variety of cultures and audiences into a more cohesive whole, by highlighting art from Latin America, the Caribbean, and from our own region. Today, we can "tell bigger stories through a Miami lens," he said.
The magic dust in Miami's new-found cultural status is the combination of the support of both larger institutions and grass-roots initiatives, which Knight provides. While Knight, for example, helped create New World Symphony's technology program, it also provided funding for a fledgling theater company just up Lincoln Road.
This fall, Miami New Drama, started just a few years ago, did the first adaptation of "Our Town" allowed by the Thornton Wilder estate. To rave reviews, it incorporated Spanish and Creole into the dialogue, modernizing the classic play.
What drew Director Michel Hausmann to the city speaks to its future. Miami is a young city, and the arts community is still in its early stages. There is so much to mold, shape and build.
"What excited me about theater is the impact you can have on a city, the impact you can have on society, the impact on a conversation," Hausmann said. "What we have here is an opportunity to shape the next great American city."
For more about the Knight Arts Challenge's 10th anniversary, including celebratory events, visit knightfoundation.org/10.
Recent Content