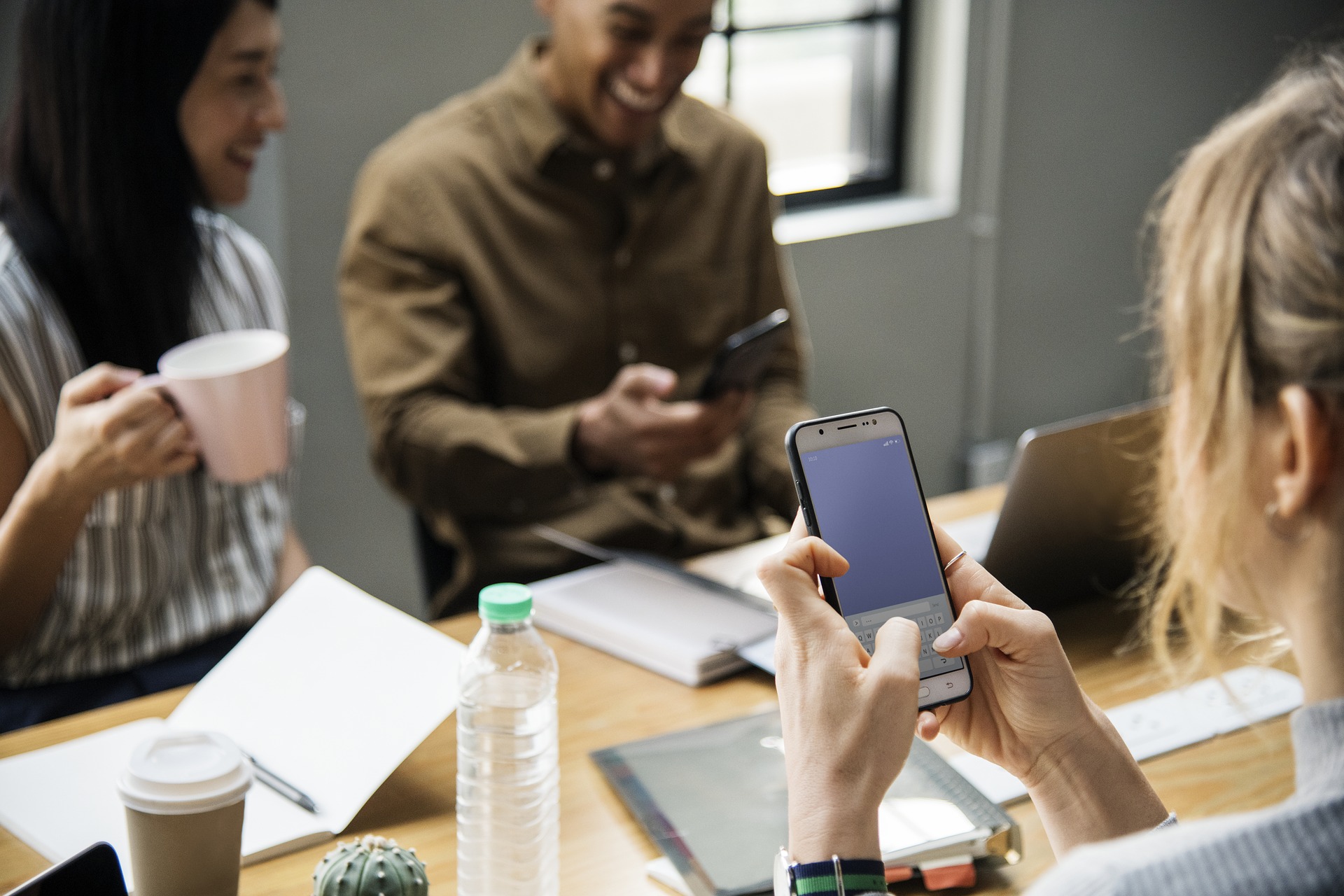 Journalism
Americans endorse reporter-audience social media interaction
This piece was originally published on Gallup.com on September 6, 2019.
Americans give a "thumbs up" to news reporters using social media to interact with their audiences, but they prefer that reporters use it to correct the record or give greater depth on the stories they are reporting, instead of expressing their opinions about the news. A new Gallup/Knight Foundation survey finds 74% of U.S. adults saying it is generally a "good idea" for news reporters to interact via social media, with 25% describing it as a "bad idea."

No less than two-thirds of members of U.S. gender, age, racial and education subgroups think it is a good idea for journalists to interact with members of the public who follow them. Republicans fall just below that threshold, at 65%, while independents (74%) and Democrats (79%) are well above it.
The survey probed Americans' views about journalists using social media for specific purposes. The one thing Americans do not want to see journalists doing on social media is sharing their personal views about the news of the day: 34% approve of this, while 65% disapprove, including 27% who strongly disapprove. Democrats (47%) are more inclined to approve of journalists editorializing than are Republicans (25%) and independents (27%).
In contrast, Americans overwhelmingly endorse the idea of journalists using social media when they use it to promote facts. For example, 92% of U.S. adults approve of reporters making social media posts to correct false or misleading statements made by politicians, including 62% who approve strongly.
More than nine in 10 Americans also approve of journalists using social media to share additional research or background information that went into their reporting, and answering questions from readers, viewers or listeners about recent stories they reported. More than half of Americans, 52%, strongly approve of reporters sharing additional information on social media, while 41% strongly approve of them answering questions from their audience.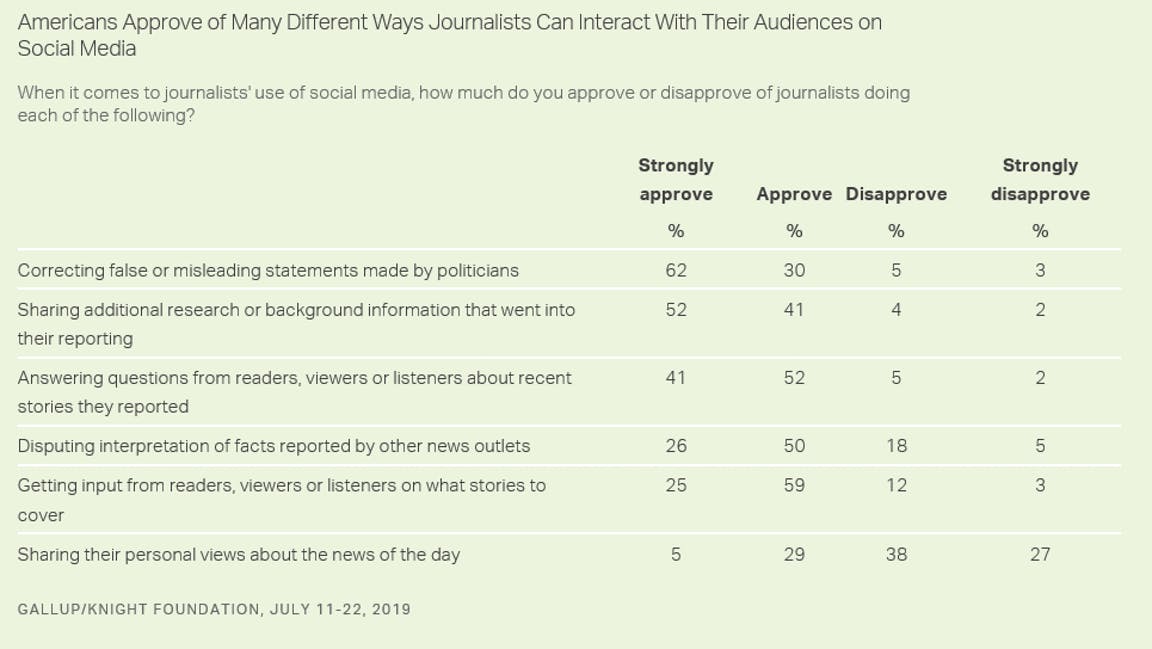 At least three-quarters of U.S. adults endorse reporters relying on social media to get audience input on what stories to cover and to dispute interpretations of facts reported by other news outlets. About one in four strongly approve of using social media for these purposes.
Reporter social media interaction not often seen
Although Americans are in favor of reporters using social media, most don't see them engaging in give and take with their audiences very often. Just 10% say they see reporters interacting with their audiences "frequently," and 27% see them interacting "occasionally." Another 27% have "rarely" seen such interactions, while 36% never have (this includes 18% who say they never use social media).
Americans who have seen reporter-audience interaction are most positive about it, with roughly nine in 10 of those who see it frequently or occasionally saying it is a good idea. Two-thirds of those who never see such activity still believe it is a good idea, as do 55% of those who do not use social media.

Implications
In an era of low trust in media globally, which may partly stem from the rise of the internet as a news source, news organizations and journalists can use the power of technology to help restore trust. Americans widely approve of journalists using social media to interact with their audiences, and those who regularly see such activity are especially positive about it. They are most likely to approve of journalists using social media to correct misinformation or to provide additional background information for their reporting. These results are consistent with a 2018 Gallup/Knight survey on media trust, which found that actions news organizations take toward promoting accuracy and transparency are among those Americans say are most likely to increase their trust in the news media.
However, reporter social media activity could also foster mistrust of the media if journalists use it to express their personal views on the day's news. Although bias is arguably Americans' chief complaint about the news media, they would prefer that reporters maintain an objective stance by sticking to the facts on social media rather than being transparent about their biases by revealing them publicly.
Currently, relatively few Americans say they have seen reporter-audience interaction online. That could mean either that not many journalists engage in online discussions of their work, or that journalists are involved in that activity, but people are not finding or paying attention to these forums.
Thus, increasing reporters' social media presence has the potential to promote trust — or mistrust — in the media, depending on how reporters use it, but it would do so only if people know where they can find that type of interaction and make an effort to view it.
Jeff Jones is Gallup's senior editor
---
YOU MAY ALSO BE INTERESTED IN…
Recent Content