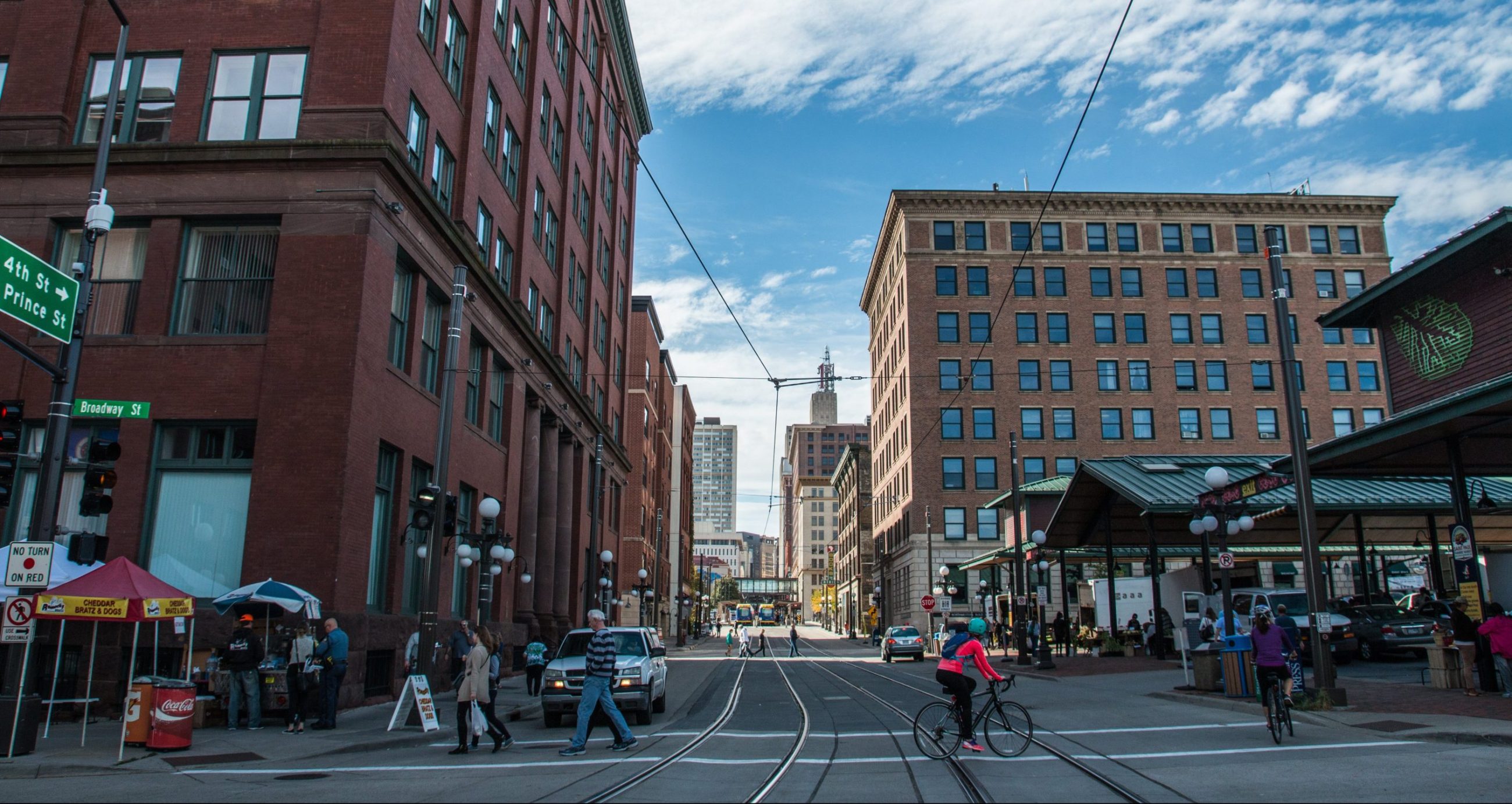 Communities
Creating a more inclusive St. Paul by putting people first
Knight Foundation invests $554,000 in St. Paul to expand economic opportunity and community safety. Jai Winston, Knight's program director for St. Paul, shares more below.
Like every community across the nation, St. Paul faced complex challenges last year. A deadly and highly transmissible virus shuttered the city and kept residents largely indoors. The killing of George Floyd in nearby Minneapolis challenged St. Paul residents to once again reckon with race and decide how to break down the walls of inequity.
But through adversity there were opportunities for the city to not only persevere, but to thrive. The pandemic motivated the people of St. Paul to make their city more equitable, inclusive and resilient during these uncertain times and beyond. We at Knight Foundation share their commitment to equity and inclusiveness; we have long invested in St. Paul's efforts to put people first, whether it's expanding equitable economic opportunities or growing the downtown corridor.
With that in mind, we are continuing to bet on St. Paul's success by investing $554,000 in two local organizations that are committed to creating more economic opportunities for communities of color, and a third that is charting a new approach to public safety.
Here's a closer look at our investments:
Nexus Community Partners ($250,000): The Nexus organization builds more engaged and powerful communities through engagement, ownership and leadership. Knight's investment will support the Minnesota Philanthropic Collective, currently housed at Nexus, specifically supporting its Minnesota Holistic Black Movement Fund. The Fund will harness the leadership of Minnesota's Black communities and explore ways of building and sustaining more economic opportunities in communities of color.
2043 SBC ($104,000): With Knight's support, 2043, a data-first public-private-philanthropic partnership approach, led by Jeff Aguy, will expand local economic opportunities by gathering data on St. Paul's entrepreneurial activity in the city, including on demographics, services provided, revenues and more. This data will be used by local and state government, philanthropic groups and other organizations that seek to expand entrepreneurship in the area. The data exchange platform will also make it easier for startups — especially those led by minorities — to share data, network with each other and with larger potential partners.
City of St. Paul's Community-First Public Safety Initiative ($200,000): The City of Saint Paul Community-First Public Safety Initiative brings a data-driven and evidence-based approach to identify and address the root causes of neighborhood safety concerns. Launched in 2020 by Mayor Carter, the initiative prioritizes investments that improve community connectivity, supports and designs public spaces for safety and enhances the capacity of public safety systems. With Knight support and resident input, the City will expand on the Community-First Public Safety framework through ongoing engagement and investment. 
Since 2000, Knight has invested more than $40 million in St. Paul projects and initiatives that have boosted economic opportunities, expanded downtown and made public spaces more inclusive and equitable – ultimately enhancing quality of life for St. Paul residents. For example, we supported the Central Corridor Funders Collaborative, a collaborative of foundations that led to the development of the Green Line light rail that has connected communities near the rail with economic opportunities. We have also supported the St Paul Downtown Alliance, which promotes a vibrant economy in downtown St. Paul by attracting new investments, emphasizing safety and recruiting new employers.
Last December, we also announced a $2.2 million investment in seven local arts and culture organizations. This included $1.5 million to relocate the prestigious Playwright's Center to St. Paul's Creative Enterprise Zone, a hub of creativity and enterprise located mid-city between downtown St. Paul and Minneapolis.
COVID-19 knocked St. Paul to the ground. But we got up and became stronger and more resilient. As program director for Knight's St. Paul program, I see this resilience first-hand. And it's why Knight is doubling down on its commitment to the people of St. Paul as they rebuild, innovate and create equitable communities, where informed and engaged citizens can thrive. When they succeed, democracy succeeds.
I look forward to continuing to elevate our beloved city by creating equitable economic opportunities for all residents and putting St. Paul on the map as a hub for innovative ideas. The future of our city has never been brighter.
Jai Winston is Knight's program director in St. Paul.
---
Image (top) by Visit Saint Paul.
Recent Content