Arts
Five takeaways on how museums are adapting to digital age demands
In May 2017, Knight Foundation announced funding to 12 art museums as part of an initiative to help museums better use technology to meaningfully engage visitors in art. Aligned with this goal, I spent much of my summer researching ways to scale new tools and approaches in support of museum tech.
The scope of the field is vast. It encompasses everything from infrastructure systems to in-gallery interactives and plenty in between. Museums and the arts sector face new challenges in our digital landscape. They must adapt to the ever-changing terrain while also anticipating the future needs of their communities.
As part of my research, I interviewed more than a dozen art museum professionals from across the country including leaders of digital departments, directors of information technology, and museum technologists. In August, Knight Foundation hosted a round table discussion about museum technology. The convening brought together professionals from different parts of the arts and culture sector including artists, entrepreneurs, technologists, professors and museum directors. Like those I interviewed, the group met us with bright eyes and nuanced perspectives on the future of museums.
Through my interactions, I learned that museum technology can be complicated. Both the challenges and the opportunities are abundant. Each institution approaches them from a different angle and has its own interpretation of technology's place in a museum. I also learned that museum folks have great stories and are open to sharing them. Here are some takeaways from my conversations: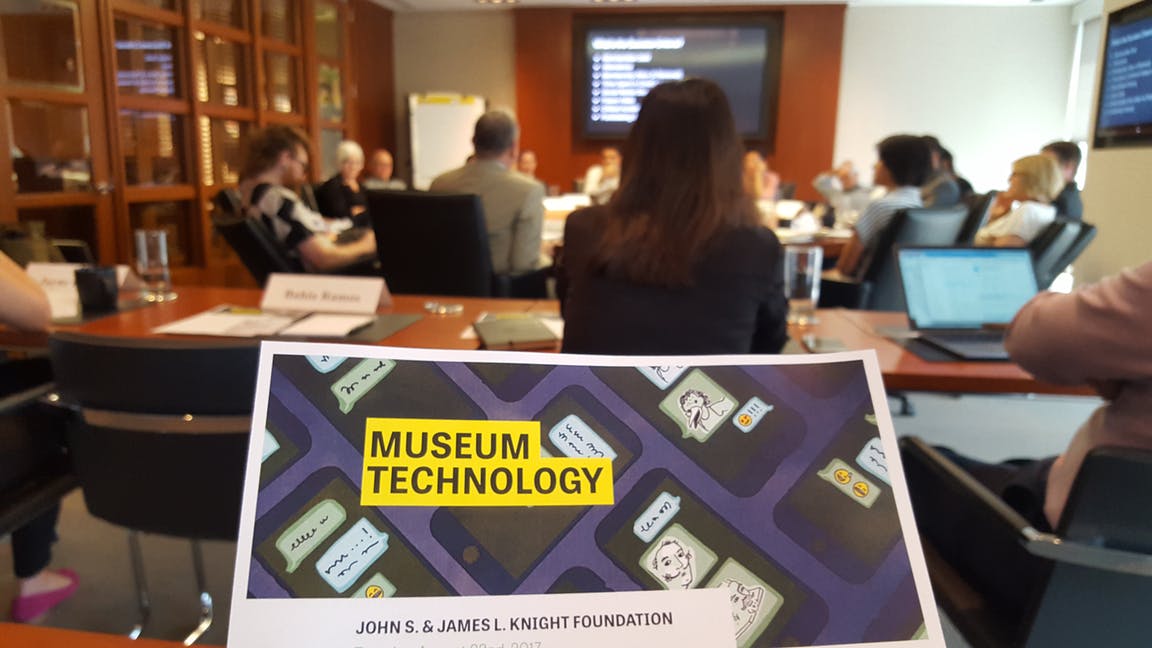 1. Museums can learn from technology disruption in other sectors
Many of our relationships with companies, institutions and even people have become purely digital in the past 10 years. Fields such as journalism have evolved to find new ways to connect with audiences. Similarly, museums must compete for attention in an environment where news, information and even art is accessible with the click of a mouse. At the same time, digital communication has created tons of opportunities for museums to build connections, communities and relationships. It provides museums with new avenues to share their collections and has created fresh ways for museums to understand the visitor experience. Social media and other technologies can help museums get more data on what's working, what isn't and what people want out of their experience.
2. The role of museums is changing and so should the experience
Technology can be leveraged to support transformative art experiences online as well as in the gallery. Museums are loosening their grip on the traditional structure of a museum visit and embracing new forms of communication, storytelling, and engagement. I was lucky enough to speak with many innovators during my summer with Knight Foundation including Franklin Sirmans, director of Pérez Art Museum Miami. Sirmans attended our roundtable discussion and described museums as, "a place of innovation and change." Museums tend to offer a neutral place for discussion, thought and experience; they serve as a perfect platform for innovation within our communities. Museums don't need to invest in the most flashy or sexy technology on the market but they should use their platform to engage in fresh and contemporary ways.

3. Digital transformation begins with infrastructure and organizational structure
While institutions recognize that technology can drive communication, make museums more accessible, and elevate voices that need to be heard, often they lack the infrastructure needed to support it.
Digital transformation is putting a major strain on museum staff across the country. I heard from many of the people I interviewed this summer that small to mid-sized museums have little capacity to take on technology projects. In addition, necessary infrastructure, including extended Wi-Fi and upgraded management systems, come with an expensive price tag. Museums often don't have the capacity to hire staff who can advance the change process. While investing in structural changes is difficult, it's also essential if museums are to stay relevant. Museums across the country are formulating digital strategies and sharing them online.
4. Sharing lessons is vital
What I heard most from experts and others is that museums work in silos. Many museums are tackling similar issues with similar projects and documentation creates transparency. Digital transformation is a challenge and can be extremely complicated. Sharing your failures with the museum community is just as important as sharing your successes. Formal documentation of this work will improve the field as a whole. Look to other museums for examples on how to share your process.
5. An artist-first mentality can drive innovation
Many museums grapple with technology adoption. For those that work with contemporary artists, one method to overcome this challenge is to let new media artists take the reins. Thinking about technology as an artist-first or artist-driven space will allow for the transformative art experiences that museums are positioned to provide.
Lauren McCarthy, artist and creator of p5.js, pushed the group at our roundtable convening to think about artists as collaborators. Giving a piece of your institution to an artist is mutually beneficial. "Allow artists to show you a new lens to view technology," she said. Commission digital artists online, offline and in your galleries. Museums can work with artists to imagine new ways to view, experience, and even collect art. Artist communities can also shed light on how to preserve new media, helping museums fill another important gap.
Jayne Butler was the 2017 Technology Innovation intern for Knight Foundation. Follow her on Twitter @chzgritz.
Recent Content