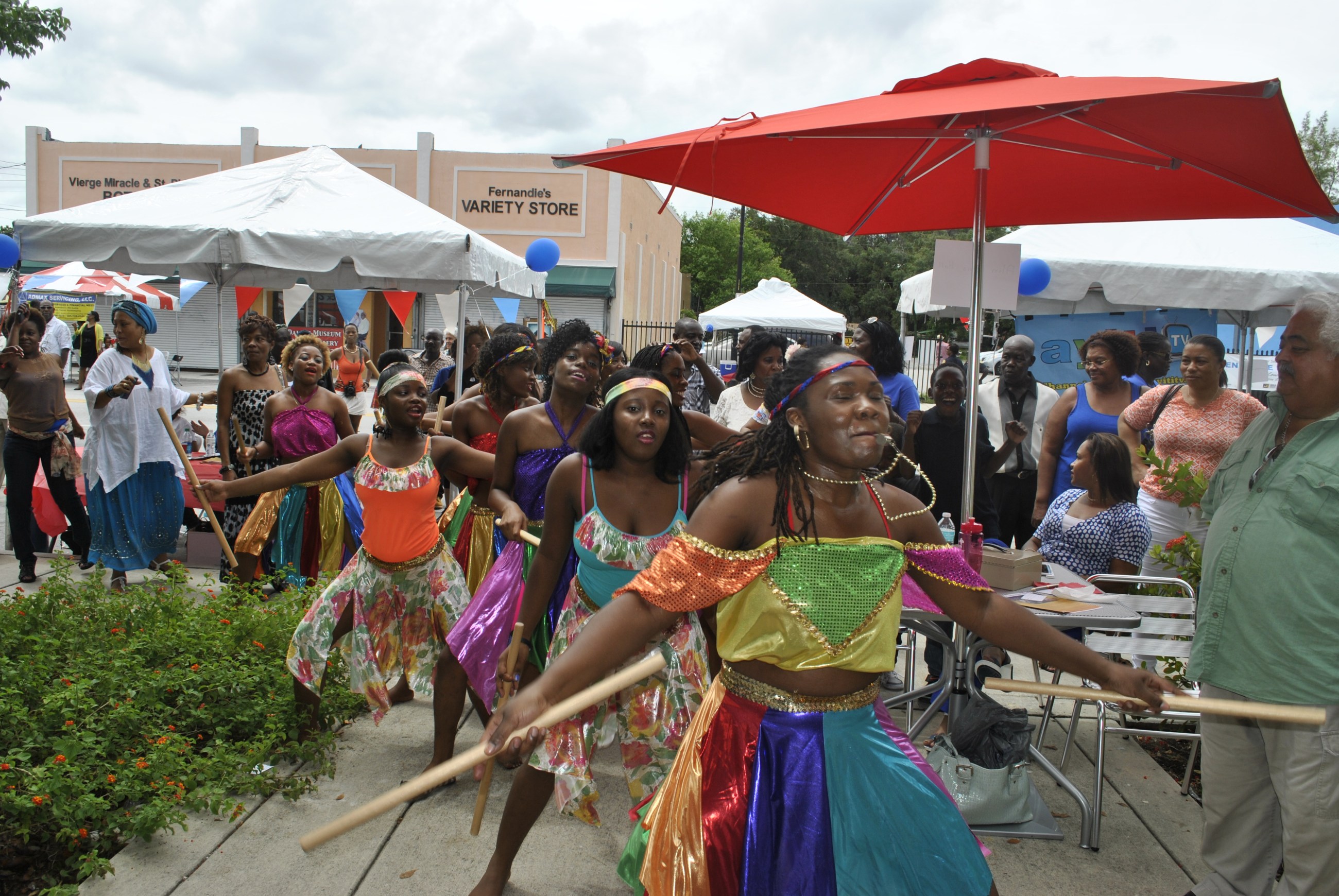 Arts
Miami's Little Haiti Book Festival celebrates literature, culture and community
The festival is Saturday and Sunday, May 27-28, at the Little Haiti Cultural Complex.
"The Miami Book Fair is now the best book fair in the nation, but [in 1984] it also started small, as Books by the Bay," noted Mapou with a smile.
An author, playwright, arts activist and radio host, Mapou is the owner of Libreri Mapou, a bookstore that has become a Miami institution. He started the Little Haiti Book Festival, originally called the Haitian-American Book Fair, for several reasons, he said, "but, especially, to promote Haitian literature. [Libreri Mapou is] a neighborhood bookstore, and I have over 5,000 titles by Haitian authors, most of them living in the United States. That means that I have books here that people in Haiti don't know about. I have scholars from Haiti that, when they come to the United States, they stop by here; they have to. It's a destination for them. [Having a book festival] was an opportunity for the authors to display their books, meet each other and communicate with the public."
For Lissette Mendez, Miami Book Fair's director of programs, the collaboration with the Little Haiti Book Festival "happened very organically."
"When people talk about independent bookstores in Miami everybody thinks of Books & Books, but Libreri Mapou is also an independent bookstore and one that functions very much as its own kind of community center," Mendez said. "So, at first, I got involved personally, as a volunteer, just to help out, as a good neighbor kind of thing. But with Haiti being such a big part of Miami, the [Haitian-American] book fair was for me an 'Aha! Moment,' [realizing] what a great event it was and how important it is for the Haitian community in Miami."
Last year, Mapou, Sosyete Koukouy, a multidisciplinary arts group, and Miami Book Fair collaborated on the fair's ReadCaribbean program. The Little Haiti Book Festival is now part of it.
"The Sosyete Koukouy is a small group of people who are very devoted [to their work]," said Mendez. "With the Miami Book Fair, we can provide the infrastructure and the additional help they need but don't have."
This year's Little Haiti Book Festival, which will be in Creole and English with simultaneous translation, includes panels such as "Haitian Literature: Resilience & Sustenance" / "Liv Ayisyen: Pote Kole pou Ayiti pi Djanm" and "Literati Natif Nataf," exploring why many writers choose working in Haitian Creole and the cultural negotiations that choice entails; but also film ("On the Verge of a Fever").
"We used to have one panel; now we have three. Last year we had 91 Haitian writers; this year we might double that because we have people coming from all over—New York, Boston, Canada," said Mapou.
But perhaps he sounds proudest when discussing "Kids Writing for Kids + Bookmaking / Rankontre Jèn Ekriven Nou yo," in which three young authors, ages 7, 13 and 17, will discuss their experiences in writing a book. "We'll have children showing children how to write, and that's the best part of it," said Mapou before breaking into a laugh. "I love it."
Born Jean-Marie Willer Denis, in Les Cayes, Haiti, Mapou, 75, is one of the founders, in 1965, of the Mouvement Créole Haïtien. That same year he also organized Sosyete Koukouy, "with the goal of educating people and promoting Haitian Creole language." But Haiti was under the dictatorship of Papa Doc Duvalier and in 1969, Mapou was jailed for four months, accused of "conspiring against the government." He left for the United States in 1972, first to New York and then Miami where he settled in 1984. A year later, he founded Sosyete Koukouy of Miami, an organization "dedicated to preserving Haitian culture in the United States through education and arts and cultural presentations." In 1990, he opened Libreri Mapou.
The Little Haiti Book Festival also includes music and dance, hands-on art-making activities for kids, food and arts and crafts stands and even a "Vodou Immersion / Atelye sou Vodou," a talk and demonstration about vodou and its practices.
If the setup suggests a condensed version of the Miami Book Fair, it's because that was, in fact, the model. "It works to have a number of different activities for people to enjoy," Mendez said. "I believe that the book fair is not only for people who are really interested in books and reading, but it's also an event that brings all kinds of people together.'"
Miami Dade College's Miami Book Fair and Sosyete Koukouy of Miami present the Little Haiti Book Festival, at the Little Haiti Cultural Complex, at 5919 NE Second Ave., Saturday, May 27, beginning at 6 p.m. and Sunday, May 28, beginning at noon. The event is free and open to the public. For more, visit bit.ly/2rB0rXq.
r
Recent Content