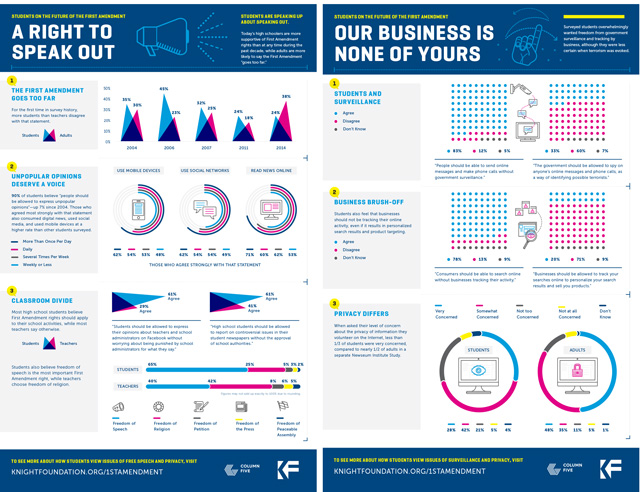 Journalism
News for high schools: Digital media plus teaching equals support for freedom
Some experts say smartphones make young people stupid. Others say technology makes them smarter. Still others say the tool is not important; it's how we learn to use it.
A new survey of more than 10,000 high school students lends support to that last view. Amid an explosion in social and mobile media – their media – high school students are supporting freedom of expression in record numbers, and are even more likely to do so if they also have had a class in the First Amendment. Related Links
During the past 10 years, Knight Foundation has funded five "Future of the First Amendment" surveys, each probing what American high school students know and think about our most fundamental freedoms.
This year, for the first time, American high school students show a greater overall appreciation for the First Amendment than do adults.
More students than ever before say they are thinking about the First Amendment. Nine in 10 say people should be able to express unpopular opinions. Six in 10 say the press should not be censored by the government.
What happened? One explanation: the digital age. In 2011, Connecticut researcher Ken Dautrich found "a clear, positive relationship" between social media use and support for free expression. He now finds the same link between digital media use and First Amendment support.
Student news diets are increasingly digital, social and mobile. In 2007, for example, only 8 percent of students surveyed reported consuming news and information daily through mobile devices. This time around, 62 percent do – an all-time high.
As students add their voices to the never-ending news streams in cyberspace, is it any wonder they seem to know more, to care more, about the freedoms that make this possible?
That said, teaching still matters. This year's Future of the First Amendment survey confirmed that students who had a class dealing with the First Amendment – 7 in 10 said they did – also support freedom of expression in greater numbers.
Indiana's Jim Streisel, Dow Jones Newspaper Fund Journalism Teacher of the Year at Carmel High School, believes digital media and teaching work together. "If you're a kid who has always used social media, you're enjoying the freedom you have without thinking much about it," he said. "When you take a class, especially a media class, you start to understand what that means, how the First Amendment is behind the scenes."
Classes help even heavy media users. For example: 65 percent of the students who use digital news daily agreed strongly that people should be able to express unpopular opinions, but if they had a class, that support rose to 69 percent.
Public opinion about the First Amendment matters. It forms the context within which the U.S. Supreme Court interprets the amendment's meaning. This new survey offers hope that the importance of our fundamental freedoms has not been lost in the space between generations.
Eric Newton is Knight Foundation's senior adviser to the president.
Recent Content