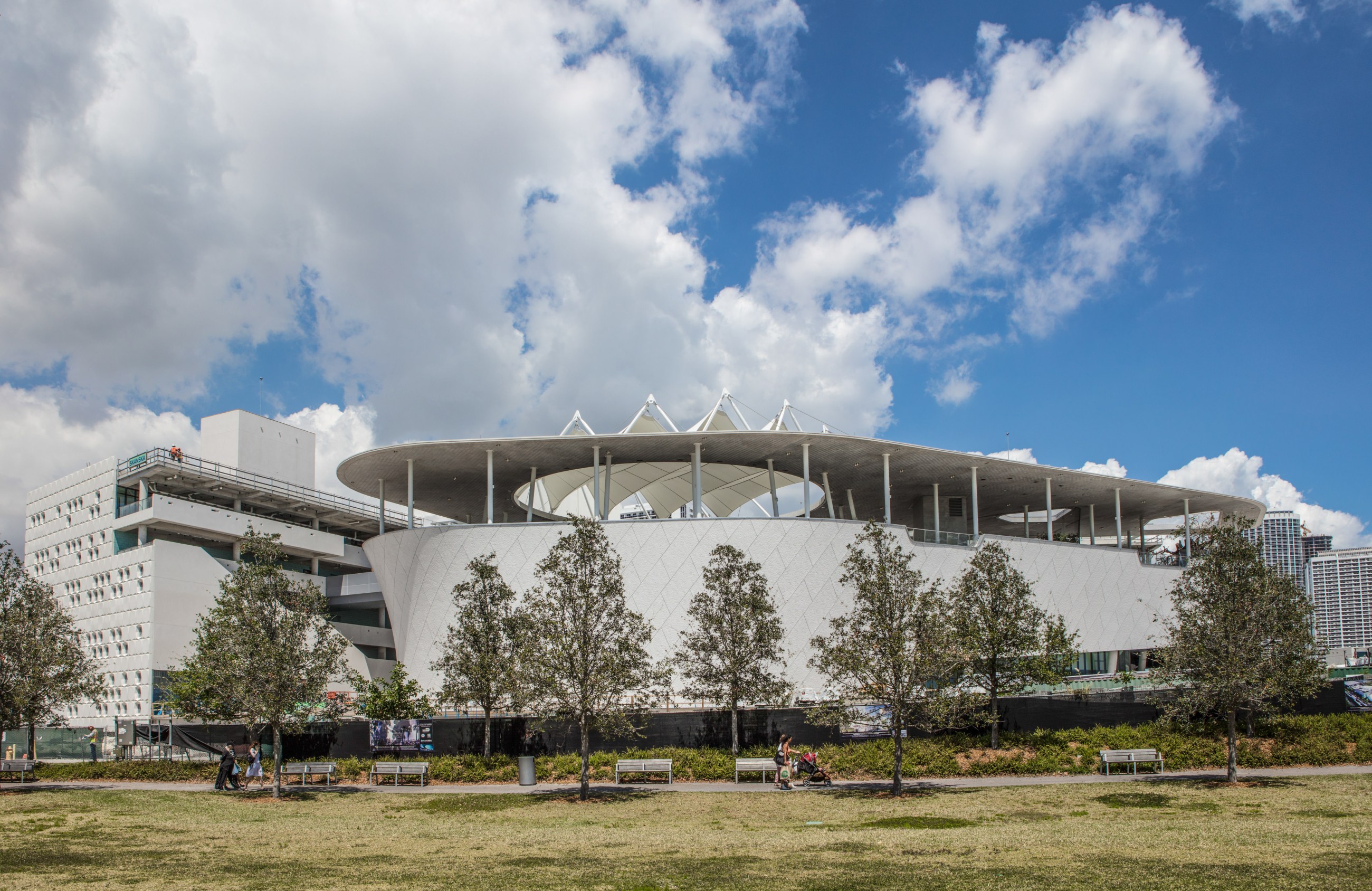 Arts
Ready for its close-up: Frost Museum of Science debuts its new home on May 8
The stunning, 250,000-square-foot facility, divided into four interconnected buildings with nearly 360 degrees of spectacular views, includes an aquarium, a planetarium and a science museum comprised of a North Wing and a West Wing. But numbers can't quite convey the experience of peering into the three-level aquarium, which includes a breathtaking underwater view through a 31-foot-wide oculus at the bottom; or walking around the interactive "Feathers to the Stars" exhibit, which tells the story of flight from feathered dinosaurs to space travel, or wandering into the "River of Grass," an exhibit that captures the richness of the Everglades in real and virtual environments.
Still, this is fun with a purpose.
"Our primary role, first and foremost, is to be that entry point into science," said Frank Steslow, Frost Science president. "If you look across different surveys, museums are always No. 1 or No. 2 in terms of credibility with the public. Sometimes they even rank above academia as a trusted source of information. We have the benefit of that relationship for the public, so yes, we want to be a fun and engaging experience, we want people to come in and enjoy themselves, but we want them to walk away with other things too, and we designed this facility in large part to be that entry point."
"The aquarium is kind of at the forefront of that because that's about the softest entry into science that you can have. People love the marine environment," Steslow said. "And there's an opportunity to talk about the real science there—system science, organism science, physical sciences, chemistry. Anything you can imagine can be applied to the marine environment. That's our role first and foremost, and then from that it branches out to much more formal educational opportunities. The Knight Learning Center is our on-site resource for doing the more formal educational programs."
A center for discovery
The $305 million facility is the third home for the Frost Science Museum, which began as the Junior Museum of Miami in 1950, occupying a house at Biscayne Boulevard and 26th Street. It relocated to the grounds of the Vizcaya Museum and Gardens in 1960. It added the Space Transit Planetarium in 1966 and the Batchelor Wildlife Center in 1991. The museum closed its Coconut Grove location to the public in 2015 in preparation for the move, but continued as a base for administrative offices, home to the Falcon Batchelor Bird of Prey Center, and many of its educational programs.
The museum has established an outstanding national reputation for its education programs. The Knight Learning Center, comprising four classrooms, will be the site for youth and professional development programs, as well as family engagement activities, and programs focusing on innovative technologies and learning research, including the Inventors-in-Residence program.
"I love science museums because they are these amazing centers for experiential learning and discovery," said Victoria Rogers, vice president for arts at Knight Foundation. "And what I truly love about interactive science museums is that you're allowed to explore at your own rate. They are the perfect place to expand our understanding of the world around us."
A goal of Knight Foundation's $10 million challenge grant to the Frost Science Museum in 2011 is to enable thousands of Greater Miami students to visit at least once during their elementary and middle school years. (Knight also endowed a similar mission at the adjacent Pérez Art Museum Miami, which opened in 2013.)
"If you get an understanding of the basic principles of science, it opens up the world to you. You won't look at things the same way," said Rogers, who at one time was the vice president for external affairs at SciTrek, the Science and Technology Museum of Atlanta. A self-described nerd, her love of science museums is both professional and personal.
"I would see the excitement of young kids when they got it," she said. "You could almost see this light bulb going off over their heads; their eyes got brighter and they got excited, and it didn't matter if it was about tectonic plates, physics, math or exploring how our bodies work. They got this energy and excitement for learning and how they wanted to learn more."
A city hub for science and art
Having the Pérez and Frost museums side by side, connected by a public gathering space named Knight Plaza, serves as a reminder of the relationship between arts and science. Knight Foundation support of the Pérez Art Museum Miami and the Frost Science Museum, reflects a holistic view of "all aspects of culture and enabling all people to have access to it," said Rogers. "It ties back to Knight's rubric of informed and engaged communities. When people are informed and engaged then they can make the best decisions for their future."
While there are no planned collaborations between the Frost Science Museum and PAMM yet, one of the inaugural exhibits, "Seeing," developed by the Science Gallery at Trinity College Dublin, explores vision and perception, and how our brains interpret what we are seeing.
In Miami, Knight Foundation has supported several ongoing programs connecting science, art and education, including Science Art Cinema, a series that "mixes 20th century science and science fiction films with performances and multimedia presentations"; ArtSail Residency and Research Program, a partnership of ArtCenter / South Florida and the Frost Science Museum, by which artists are commissioned to create work inspired by Miami's relationship to the water and "Corpus Callosum," a collaboration between the museum and the New World Symphony that combines classical music performances and neuroscience to explore how humans experience the world.
"The beauty of a science museum isn't just for the 8-year-old kid," said Rogers. "It's for any one of us. We take our frame of reference, we take our understanding with us and we can learn something new, we can evolve our frame of reference. These are places of innovation and inquisitiveness—and they are amazing."
Frost Science opens at 11 a.m. on Monday, May 8. The museum will be open from 9 a.m. ­– 6 p.m. daily beginning Tuesday, May 9. On Friday, May 12, and Saturday, May 13, the museum plans to remain open until 10 p.m. For tickets and other information, including discounts for Miami-Dade County residents, visit frostscience.org. On Twitter, follow @FrostScience.
r
Recent Content