Arts
Sphinx Organization honored by White House for its youth music programs
When the Sphinx Organization began nearly 20 years ago, with the mission to encourage access, inclusion and exposure for musicians of color within classical music, it was a grassroots effort that could hardly have foreseen recent events. This month, one of Sphinx's education programs, Sphinx Overture—which provides free violins and instrument lessons to elementary students in Detroit and Flint, Michigan—was honored as a recipient of the 2016 National Arts and Humanities Youth Program Award. Sphinx President Afa S. Dworkin and Detroit Overture student Joselyn Hernandez attended a ceremony at the White House to receive the award from First Lady Michelle Obama.
Sphinx was founded 20 years ago with the national Sphinx Competition for young black and Latino string players. Over the decades, its programming has grown to include multiple scholarship and grant programs that have distributed more than $2.5 million in funding to students of classical music, touring orchestras and quartets that have reached 70 cities, a national convention on diversity in the arts, and education programs including Sphinx Overture—the program that received high honor from the White House this month.
"We are proud of our teachers, students and the ever-growing Sphinx family for their dedication to excellence and inclusion," said Dworkin, who emphasized that the goals of access, inclusion and exposure have now grown into a movement that "nurtures the reciprocity between the arts and the community that it must serve." As Sphinx has expanded its programming, it has implemented four organizing principles into which its work is categorized: Education & Access, Artist Development, Performing Artists and Arts Leadership.
The National Arts and Humanities Youth Program Award will enable Sphinx to continue to expand its reach and exposure. Since 1997, the organization has reached more than 100,000 students, providing access to equipment and lessons, mentoring and exposure to classical music in the form of free concerts and competitions. According to Therese Goussy, manager of special events and communications, Sphinx's goal for the next 20 years is to reach more than 250,000 students.
"This award will help us reach that goal," said Goussy, "not only by providing resources to sustain our programs, but by increasing awareness of Sphinx's mission of transforming lives through the power of diversity in the arts and the work that we do—hopefully leading more students and musicians to participate in our programs and ultimately have their lives transformed."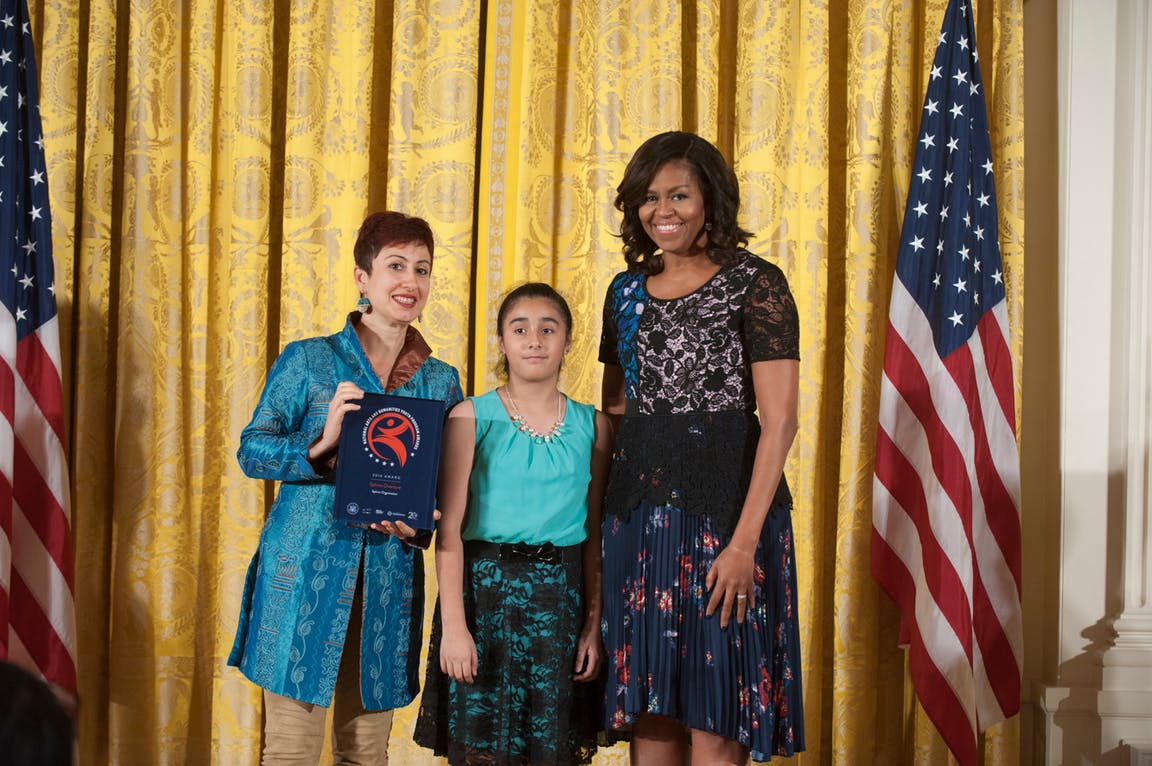 One such student is Joselyn Hernandez, who stood alongside Dworkin to receive the National Arts and Humanities Youth Program Award on behalf of the Sphinx Organization. As a young girl, Hernandez enjoyed the sound of the violin and began to dream of playing in an orchestra, but none of her schools offered a music program. "Thanks to Sphinx Overture, she received a violin and lessons, and will seek further study in Detroit," said Goussy. "She's excited that Overture has helped her maintain a lot of friends, get good grades, and be able to take on opportunities to perform at church, family gatherings and school."
Excited though she was, Hernandez held her own as she gave Mrs. Obama a hug and posed for pictures during the ceremony, which included a moving introductory speech by the first lady about the importance and impact of arts programming in the development of youth in the United States.
"We believe that every single child has boundless promise, no matter who they are, where they come from, or how much money their parents have," said Mrs. Obama at the ceremony. "And it is important to our continued greatness to see these kids as ours–not as 'them,' not as 'other,' but as ours. And that's really the power of programs like these. That's the message that they send to our young people every single day."
"To have Sphinx's dedication to social justice and diversity in the arts recognized by the White House, particularly at this divisive and turbulent time when race and social justice are very salient topics, is incredibly significant and empowering," said Goussy, who was also on hand in Washington, D.C., to attend the award ceremony.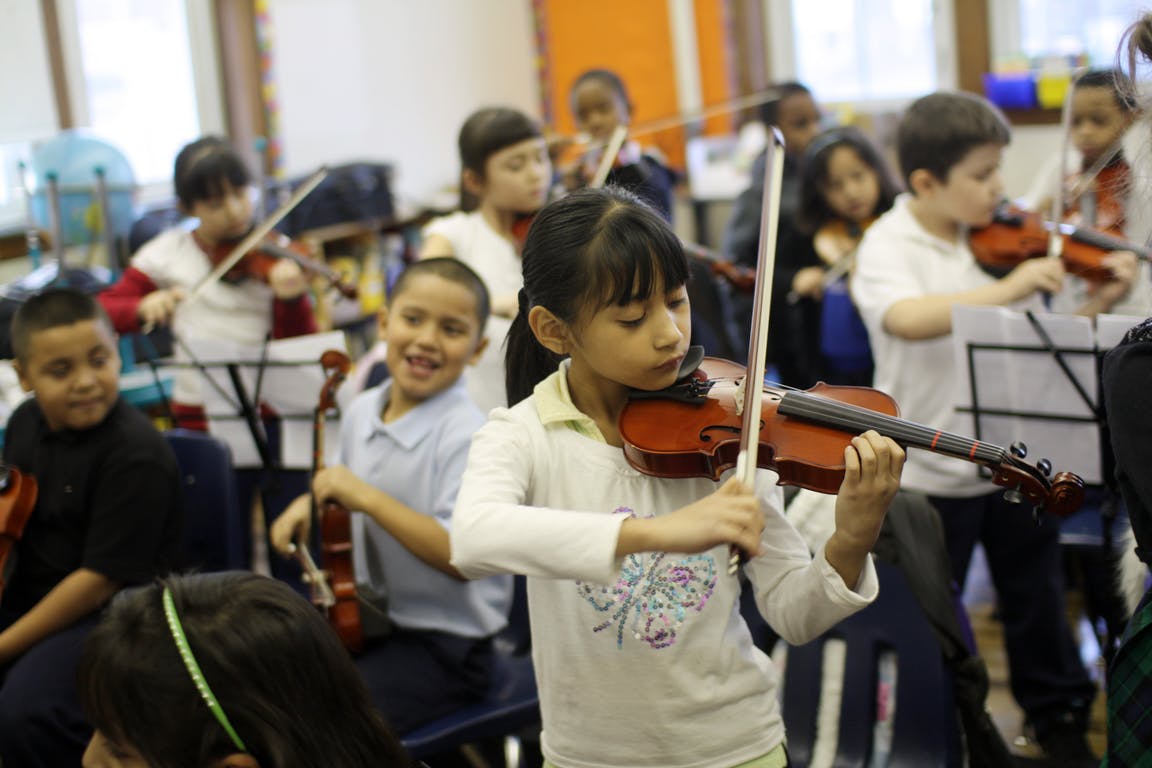 Looking forward, the Overture program has plans to continue its summer camp session of Overture, launched for the first time in 2016, and previously only available during the school year. Sphinx hopes to leverage the honor of this award (and the boost in fundraising it hopes the award will inspire) to expand the capacity of that summer program, as well as establish Overture classes in more Detroit elementary schools. Its projected goals over the next 20 years are ambitious, and include working to reach 250,000 students with its education programs; distributing $1 million in instruments, $3 million in artist grants, and $5 million in scholarships to students and musicians; facilitating 1,000 appearances by Sphinx tours and soloists in more than 200 cities
; expanding its artist and alumni constituency to 1,200 musicians; and reaching more than 40 million viewers in live and broadcast audiences.
Already, Sphinx can point to its success stories with great pride. Joseph Conyers first participated in the Sphinx Competition in 1998, and is now assistant principal bass of the Philadelphia Orchestra, executive director at Philly music camp Project 440, music director of the All City Orchestra of Philadelphia, and adjunct faculty for Boyer College of Music and Dance at Temple University.
"As a 16-year-old from Savannah, Sphinx meant to me that I wasn't alone," said Conyers, in a statement shared through Sphinx. "I will never forget meeting for the very first time young musicians of color who were as passionate about classical music as I was. My experience with my newfound friends and Sphinx family was beautiful and unique. It encouraged me to work that much harder at the art form that I had fallen in love with and dedicated my life to. 

Now, as a professional musician, I see the profound impact of Sphinx. Sphinx artists are some of the leading artists in classical music in the country. That makes me very proud to be an alum! Sphinx has provided me opportunities that have enabled me to grow my own organization, which supports access to music education for youth. It is my hope that my organization can have the same impact on the youth we serve that Sphinx has had on me."
Conyers is not the only one who has high hopes for the future.
"I see Sphinx continuing to be the catalyst it has been in the area of social justice and the arts," said Dworkin. "As I look ahead to our 20th anniversary in 2017, I see us becoming an even stronger conduit between the field of classical music and the incredible pipeline of artist-citizens who are so deeply committed to excellence and service to the community."
Recent Content