Artists and organizations each receive $10,000 to develop their ideas for new work. Knight also names 19 local leaders as arts champions and asks them to direct $10,000 each to artists or organizations of their choice.
New Work winners and Arts Champions embody resilience, spirit and an innovative future for Miami arts.
MIAMI – December 10, 2020 – The pandemic has shown that the resilience of the performing arts depends on the ability of artists and organizations to adapt. Today, 18 Miami artists, artist collectives and arts organizations who are envisioning new ways to connect with their audiences will each receive $10,000 from the John S. and James L. Knight Foundation towards the creation of new works that reimagine how the performing arts are created and experienced during the pandemic and beyond.
Knight also named the 2020 Knight Arts Champions, a diverse group of 19 community leaders who play vital roles in uplifting and promoting the arts in Miami. They will each direct $10,000 to local artists and arts organizations they want to support.
The 18 winners were chosen in the Knight New Work 2020 challenge, an initiative to accelerate the innovative approaches used by Miami artists to inspire and connect with audiences despite the challenges posed by the pandemic. Launched in September, New Work is a two-part open call designed to support artists and arts organizations in creating works in dance, music and theater that respond to these unprecedented times and contribute to Miami's rich art scene.
The winners' projects include an interactive drive-in theater experience, a musical web series and a virtual bus ride with theatrical performances at various "bus stops" along the way.
"It's been exciting to see the imaginative approaches of Miami artists as they create new ways to engage and connect us through the performing arts," said Victoria Rogers, vice president of Knight's arts program. "Whether it's through digital or revamped in-person experiences, their ingenuity will break new ground on how the performing arts is experienced and continue to demonstrate the resilience of artists in the face of adversity."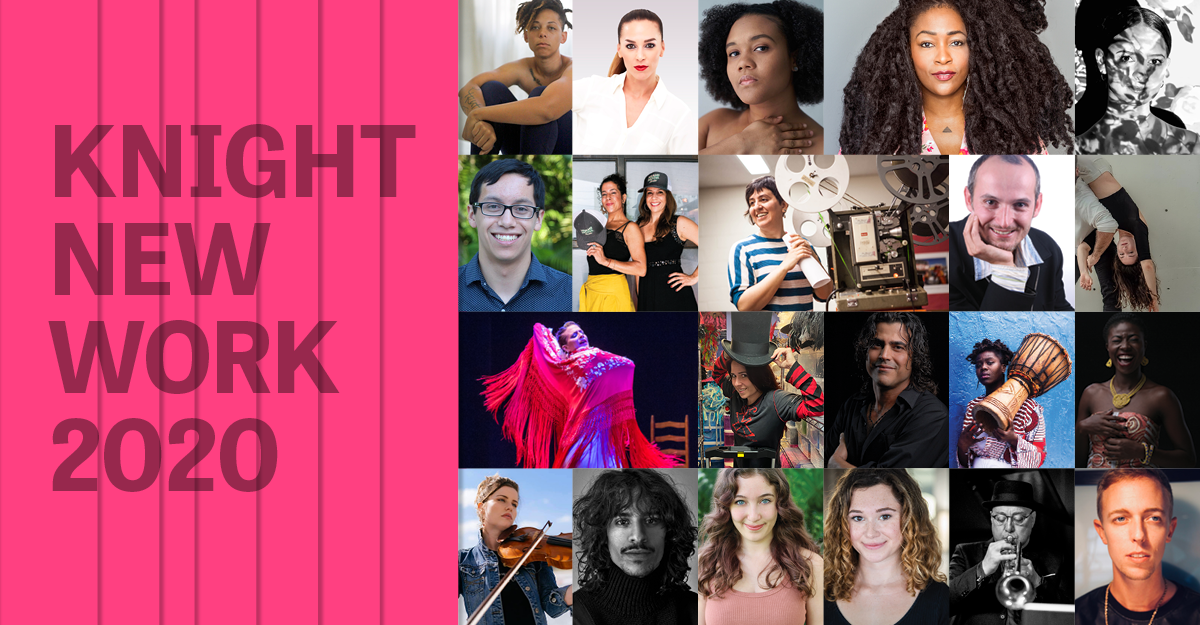 The 18 artists and groups chosen for Knight New Work 2020 will receive access to an advisory panel of established artists and be able to participate in a workshop, where they can share their projects with peers and advisors for feedback. In March, New Work will select a smaller group among the winners to fully create and showcase their work in 2021 for Miami audiences. In total, Knight plans to invest $500,000 in the initiative.
The Knight Arts Champions, for their part, embody the range of leadership a community needs to develop a robust arts ecosystem.
"Over the last few years, we've invented a tradition of naming Arts Champions. They're activists and movers and scouts showing us the future of arts in Miami. They have expanded all our definitions of diversity and helped introduce or accelerate the work of so many Miami artists," Rogers said. "We're thrilled to add 19 more Champions and their choice to receive the $10,000 award."
The 18 Knight New Work 2020 first-round winners are:
Carlos Fabián Medina – "Little Spaces"

A site-specific theatrical performance that uses real testimonies to explore the different experiences of individuals living in Miami during the pandemic's "new normal."

Ari Urban – "The Art of Being Human"

A new personal type of concert experience at the intersection of classical music, sound healing and meditation that invites active participation from the audience.

Rosie Elliott – "Making Deux"

An uplifting dance film that includes unlikely collaborations from artists all over the country and that examines the link between human connection and isolation.

Jay Thomas – "Butterfly Parade"

A psychedelic concept album performed live and broadcast online, inspired by human resilience and triumph.

Octavia Yearwood – "Life's Interludes"

A mixtape of music and poetry paired with visual components that share the intricate experiences of queer artists in a world where their lives feel like interludes.

Maya Billig – "A Lot"

An interactive drive-in dance performance centered around physicalizing the experience of regaining momentum after being "parked" in one space for a period of time.

Juggerknot Theatre Co. – "Miami Bus Stop Stories"

A live, virtual immersive theater experience featuring a hyper-local historical adventure where bus passengers meet neighborhood residents in a series of virtual stop stops throughout Miami neighborhoods.

Fereshteh Toosl – "Oil Ancestors"

An immersive, virtual performance that explores the cultural history of oil.

Najja Moon – "The Huddle is a Prayer Circle"

An immersive installation and interactive performance that encompasses sound, scripture and movement.

Diana Lozano – "Escape 2020"

A socially-distanced drive-through safari meets an immersive theme park ride in this theatrical journey.

Ballet Flamenco La Rosa – "Me Duele el Aire"

A collaborative online dance performance with diverse artists and community members inspired by COVID-19 experiences.

Juraj Kojs – "Where Home Is"

A multi-movement music composition for voices, instruments and laptops, exploring the theme of immigration and citizenships from the perspective of a recently naturalized U.S. citizen.

Natasha Tsakos – "The Car Wash Show!"

An immersive theatrical experience that aims to bring human connection, fun and awe back in everyday life for everyday people from their vehicles.

Melissa Cobblah Gutierrez – "CuBlack: Invisibilized No Further!"


A dance film and performance that analyzes the "invisibilized" oppression of Blackness inside the Cuban community and investigates how it has impacted Miami.

Jose Veliz – "Music United"

An interactive musical experience that lets participants control cross-genre music in person and remotely, with a composition performed across different rooms and streamed together to create a unified piece.

Amanda Ribnick & Emilia Torello – "Underground"

A musical web-series that follows an unlikely team of women in purgatory fighting through an examination of morality.

Brian Lynch – "7 for 7 by 7: A Jazz Work Exploring Distance, Interaction and Chance"

Seven performances for seven minutes by seven musicians totalling 343 new pieces for a jazz septet, exploring the nature of interaction at a distance.

Carlos Miguel Caballero, Inez Barlatier and Lornoar – "Sharing Grandmothers"

A collaborative theatrical performance featuring Black female artists from Cameroon and the Haitian diaspora in Miami, incorporating original music and dance by Inez Barlatier and Lornoar.
The 19 Knight Arts Champions are community leaders who have contributed to growing South Florida as a rich hub of art and culture. Each of the champions will direct $10,000 — provided by Knight — to a local artist or arts organization of their choice.
The 2020 Knight Arts Champions and their recipients are:
Knight has long invested in establishing strong cultural roots in Miami by supporting projects by local artists. Knight believes the arts are at the core of community and play a key role in connecting people to place and each other. The Knight New Work 2020 open call and the announcement of the 2020 Knight Arts Champions builds on this vision, while taking into consideration the challenges — and opportunities — brought on by recent events.
About the John S. and James L. Knight Foundation
Knight Foundation is a national foundation with strong local roots. We invest in journalism, in the arts and in the success of cities where brothers John S. and James L. Knight once published newspapers. Our goal is to foster informed and engaged communities, which we believe are essential for a healthy democracy. For more, visit kf.org.
---
Image (top) of Alexey Taran by Jayme Gershen.