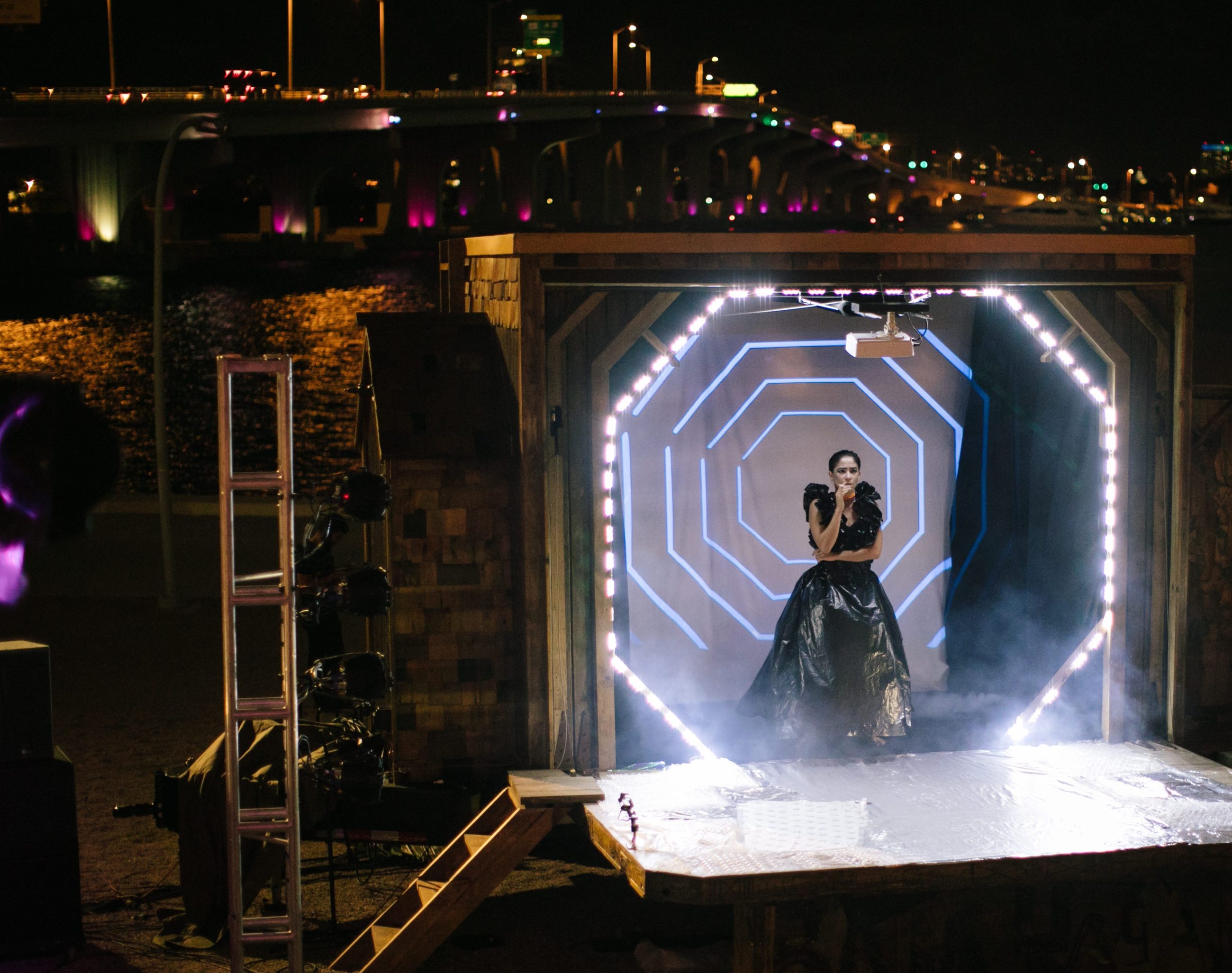 Arts
COVID taught me we need the arts to connect us more than ever. Here are 18 artists and organizations finding new ways to do it.
On December 10, 2020, Knight Foundation announced the winners of the Knight New Work 2020 initiative, 18 Miami artists that will receive $10,000 to create works that reimagine how the performing arts are experienced and created during the pandemic and beyond. Along with the winners, Knight announced the 2020 Knight Arts Champions, 19 community leaders who will direct $10,000 to Miami artists and arts organizations of their choice. Click here to see the press release, and learn more about the winners here and the champions here. Knight's Adam Ganuza shares more below.
A few weeks ago my family and I ventured out to our first cultural event in months. It felt like it had been much longer, though, the time having been stretched and slowed by the strain of adapting to our new circumstances this year — balancing working from home, the care of two small children and seemingly endless arguments with recalcitrant family members convinced that COVID-19 is neither real nor serious.
While I'd attended my fair share of online arts exhibitions and virtual events since March, this was different. It was in person and outdoors. We packed peanut butter and jelly sandwiches for the kids and a bottle of wine for the adults. While we didn't interact with other groups given obvious reasons, it was refreshing to simply be in the company of others, sharing this wonderful cultural experience. It seemed that what I had so easily taken for granted in the past took on a whole new significance after the events of 2020.
This is one of the greatest lessons of the pandemic—the importance of shared, meaningful experiences with others and the deep-seated sense of connection those experiences can evoke.
Knight Foundation funds the arts based on the premise that arts and culture connect us to each other and to the place we live. This year has served as an important experiment for that hypothesis and I can wholeheartedly say that being there — sitting on a grass lawn, surrounded by soothing sounds and absorbing light projections, hearing the chittering of other pods — I knew that hypothesis was true.
That's why we are so excited to announce the first-round winners of Knight New Work 2020, an open call to support Miami-based artists and arts organizations to create new works of dance, music or theatre. The 18 groups and individuals selected will each receive $10,000 to unleash their phenomenal creativity and help reimagine what the performing arts can be in the post-pandemic world. A subset of the winners will receive additional funding next year to produce their new works, as Knight invests up to $500,000 in the program.
Designed for this time of physical distancing, the new works of dance, music, and theatre being developed through Knight New Work are examples of creativity amidst constraint. All these winning projects are able to be experienced in accordance with health safety protocols. Many are digital in nature and are intended to be viewed from home. Some are outdoors. Others are things experienced by car. In every case, these are artists who are working to keep us together, apart.
Knight New Work is not just about figuring out how we'll watch a play in the future. There is more to this than investing in interesting people doing cool things. The pandemic and its intersection with digital technology is reshaping the ways we communicate, collaborate and connect. New Work represents an investment in artists who are actively experimenting with the implications of these changes.
If my experience venturing out of relative isolation after months is like that of others, then the pandemic is also changing what we crave. Personal, participatory and in-person-esque experiences have taken on a whole new level of significance.
We'll continue to participate in the arts from home in the post-pandemic world— in ways that we're accustomed to, like watching a film, and in many more. The artists supported through this grant are adding a twist and creating immersive and participatory experiences that can happen from the comfort and safety of your home. Digital technology helps to make this possible. It can draw us into the experience by enabling our participation, whether by interacting with the work directly or by sharing a link out to our friends and family. You can ask questions of that actor improvising on the other side of a Zoom performance or unravel a on-screen mystery by following along with a kit of objects sent to you through old-fashioned mail. We're just seeing the beginning of this trend and are excited about what's coming our way as writers, actors, dancers, filmmakers and so on grow more comfortable and adept at blending their practices and approaches with new digital technologies.
We'll be enjoying art outdoors more often, too, especially in warmer climates like South Florida's. We'll also experience the performing arts by car: You've heard of drive-in theaters, but how about a drive-through circus?
We're confident that live, indoor performances will return. We're also confident that they won't look like they did a year ago. With the future of performance venues of all sizes rife with new challenges and new opportunities, now is the time to expand the performing arts as far beyond the proscenium as possible. Knight believes the key to this evolution is to bet on artists.
When announcing this program earlier this year, I wrote about the irreplicable electricity of watching a performance in person. I wrote that there is something special that happens when the audience and performer breathe the same air. Looking back at that after months of restricted movement and social distancing, I'd reframe the concept. That electricity happens not just when the performer and audience breathe the same air, but when the audience members do.
To learn about the New Work winners and their projects, click here. Be sure to follow Knight Foundation on social media to keep up to date with the New Work winners and their projects.
Adam Ganuza is an arts program officer at Knight Foundation. You can follow him on Twitter at @AdamGanuza.
---
Recent Content